DEBUNKED! Did Minister Champagne actually stop the Rogers-Shaw buyout?
Or did he approve it? The truth is: Champagne rubber stamped the affordability-crushing deal. Here's how he pulled off the sleight of hand.
Did you hear the recent claims that on October 25, Minister Francois-Phillipe Champagne blocked Rogers from buying Shaw? It's certainly an attention grabbing headline — but is it true? We're speaking up to set the record straight: it's FALSE.
FACT: The Rogers-Shaw deal is still very much alive, despite what you may have heard.
Unfortunately, Rogers-Shaw is far from blocked, regardless of Minister Champagne's posturing.
On May 9th, the Competition Bureau — Canada's competition watchdog — made headlines by siding with Canadians against Rogers' bid for even more power and influence by buying Shaw. Now, the Bureau's challenge has moved to a lengthy Tribunal process, which began this fall. The results of the Tribunal's deliberation will determine if the Bureau's attempt to kill the deal will stand; Rogers-Shaw could still go through, pending the outcome of the case.
FACT: All Minister Champagne did was "deny" a part of the Rogers-Shaw deal that was ALREADY dead — the sale of Freedom Mobile.
So what did Minister Champagne do on October 25th, exactly? Not much.
Since March 2021, Rogers has sought to buy Shaw in full, which initially included three areas of their business: wireless (cell phone services), Internet, and broadcasting.
The broadcasting transfer has already been approved by the CRTC. Shaw's television and radio business will be sold to Rogers. Right off the bat, Champagne's supposed "denial" of the buyout looks a little wishy-washy. But wait! It gets even worse.
Earlier this year, Rogers and Shaw already signed a plan to sell off Freedom Mobile (Shaw's cell phone business) to Quebecor-owned Videotron. This came after the Competition Bureau's challenge of the deal in May, which included the argument that allowing Rogers to buy Freedom Mobile via Shaw would deal too hard a blow to cell phone competition and affordability. So instead, Rogers and Shaw chose to let Freedom go to Quebecor in order to drastically improve their chances of having the rest of the deal approved.
What does that mean exactly? It means Champagne came late to the party; he's boasting that he denied an aspect of the buyout that Rogers had already killed off on their own, while omitting the truth; he's rubber stamping the remaining two-thirds of the deal — Internet and broadcasting.
A win for competition and everyday people in Canada? Far from it. A denial of the Rogers-Shaw deal? Absolutely not.
FACT: Champagne just guaranteed Freedom Mobile will still end up in the hands of Big Telecom — an anti-competition, anti-affordability move dressed up to look consumer-friendly.
In Champagne's announcement, he said that Videotron would be required to hold on to the wireless spectrum they'll gain from the sale of Freedom Mobile for 10 years. He also declared that Videotron's cell phone prices in new regions moving forward should match their current prices in Quebec, which are cheaper than average prices in other parts of Canada.
But what is binding Videotron to this agreement? Seemingly nothing. Champagne clearly has no intention of monitoring or enforcing this "remedy" he tacked on to this affordability-killing deal as an afterthought.
Not to mention that many of Videotron's offerings in Quebec are worse deals or more expensive than those currently offered by Freedom Mobile in Western Canada. So in what world do Champagne's new rules for Videotron improve cell phone affordability in any meaningful way?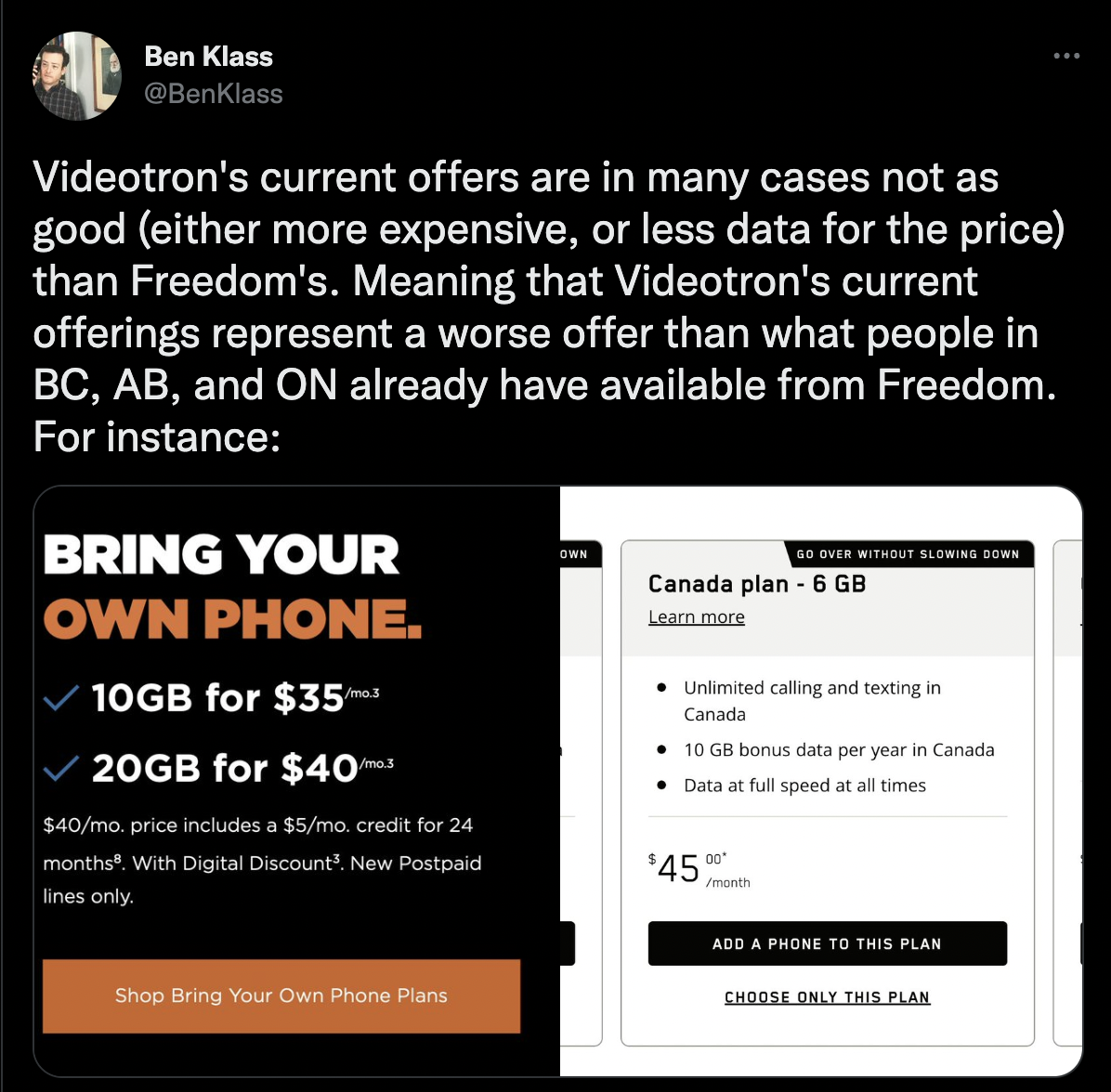 Via Ben Klass on Twitter
FACT: Champagne actively chose NOT to exercise his power as Innovation Minister to block the Rogers-Shaw deal in full.
While Minister Champagne's main focus of this buyout was always cell phone services, make no mistake: he is the elected official in charge of an entire government department that oversees the telecom industry. From Day 1 of the Rogers-Shaw deal, Champagne has had the power to render the buyout fully dead in the water.
To actually stop Rogers-Shaw and take meaningful action for Canadians, all Champagne needed to do was insist that wireless spectrum owned by Shaw must stay with Shaw, and may not be divested to Rogers or any other party — something that thousands of people in Canada have told him for months. This would have made it impossible for Rogers to complete the spinoff of Freedom Mobile to Quebecor, and would have all but guaranteed the buyout's demise.
Instead, Minister Champagne has now positioned himself in stark contrast to the verdict of MPs from all parties on the Heritage and Industry committees, who concluded in separate reports that the entire deal was against the interest of Canadians and should not move forward. He's peddling a false narrative that paints him as championing the needs of people in Canada, while simultaneously undermining choice, competition, and affordability.
Where do we go from here, Minister Champagne?
Lowering Canada's sky-high Internet bills can only be accomplished through adding competitors in the market and making it possible for the few competitors we already have to stay in business. But at every turn, Champagne's choices are making it impossible to get there — and this latest move is a prime example.
While our #MinisterOfCollapse Champagne sits on the fence, the limited competition we have is collapsing around us. Since the start of the year, a wave of buyouts of small Internet providers like EBOX, VMedia, and Distributel has swept the industry. These buyouts don't come out of nowhere; Minister Champagne's anti-competitive actions, sluggishness on key decisions, and failure to give binding teeth to pro-competition moves have all paved the way.
That's why people in Canada are demanding the Minister finally take a stand. He's still got time to say enough is enough: every Canadian deserves high-speed, affordable service, with plenty of choices of providers and plans.
The path to getting there starts with immediately:
Setting aggressive and specific targets for the CRTC on competition and affordability;
Explicitly directing the CRTC to revisit and recalculate our Internet wholesale rates — both for wired Internet AND the gold standard of connectivity, fibre;
Welcoming the full MVNO service that has brought meaningful mobile competition to many other countries; and
Aggressively updating our competition laws to ensure our Competition Bureau can take action against quasi-monopolies and demonstrated monopoly profits, in our telecom sector and elsewhere.
Actions, not words, will rein in Big Telecom and give Canadians the fair and affordable telecom prices we need and deserve. Email Minister Champagne NOW: Stop the rapid extinction of Internet competition, choice, and affordability in Canada!