Thousands of OpenMedia community members just stood up to defend Canada's Internet from website blocking!
The May 27 Day of Action saw over 2500 comments sent to the government in a single day, for a total of 14,000 by the consultation deadline.
The May 27 national Day of Action to stop website blocking from coming to Canada was a smashing success — and it couldn't have happened without the hard work of people in the incredible OpenMedia community like YOU.
You used this day to collectively speak out (in both official languages!), and you were LOUD. Over the course of just a few hours, the community sent in more than 2,500 messages to the government's website blocking consultation, bringing the grand total of messages submitted by the May 31 deadline to over 14,000!
More than 350 tweets and retweets using the #NoSiteBlocking and #PasDeCensure hashtags also ensured the Day of Action was seen on up to 7 million screens across Canada and the world. And just to go that extra mile to amplify the DontBlock.ca/PasDeCensure.ca message, many folks also changed their profile pictures on Twitter, Facebook, and beyond.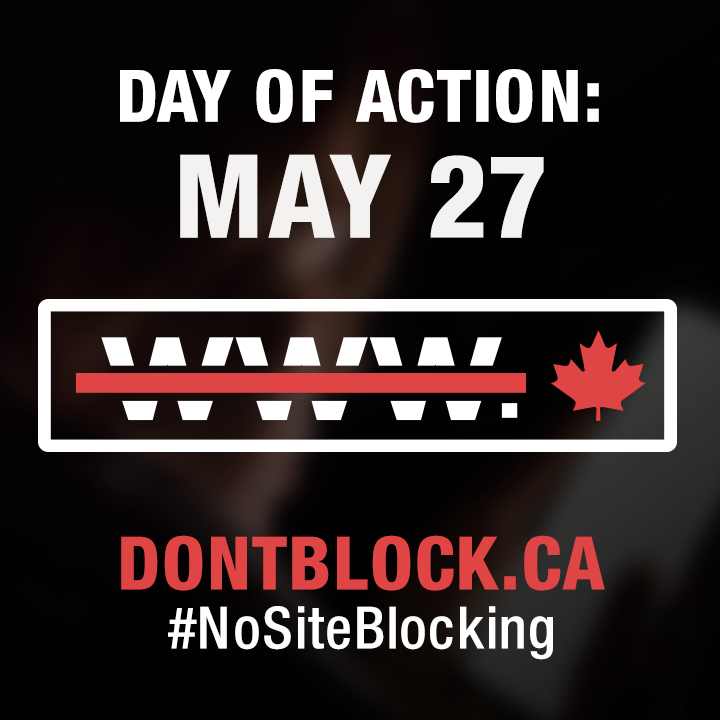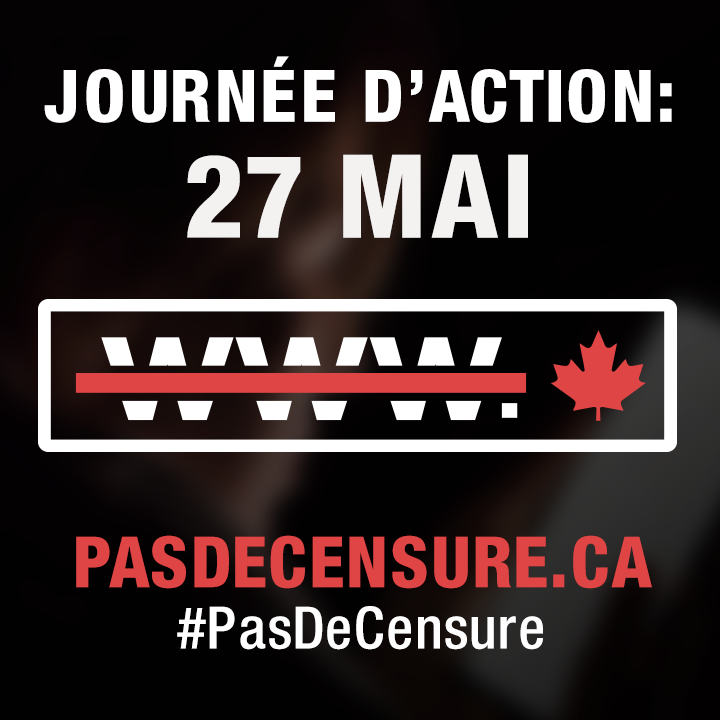 Our community did not stand alone. A cross-section of organizations across Canada also joined us for the Day of Action to stand against any website blocking or user disconnections on the grounds of copyright. The group of 16 endorsed the following statement:
"We call on our government to explicitly reject requiring or encouraging the blocking of websites and disconnection of Internet users in response to alleged copyright infringement. Existing safe harbour protections that uphold net neutrality and common carriage must be upheld. Unrestricted access to the Internet is an essential service, critical to our freedom of expression and access to information, and must remain protected in Canada."
It takes an especially dangerous and disproportionate proposal to warrant this kind of nationwide display of grassroots and expert opposition — but government website blocking powers guided by the hands of copyright giants certainly fit the bill.
What was the Day of Action about?
A quick refresher if you're just tuning in: in April of 2021, our federal government revealed that they are considering forcing ISPs and other online intermediaries to block access to many websites and services, and even permanently disconnect users, all at the request of copyright holders.
In the policy paper for the "Consultation on a Modern Copyright Framework for Online Intermediaries", the government suggests giving itself sweeping powers to create enforceable website block lists. This would mean shutting off access to any parts of the web in Canada that local copyright-holding bullies like Bell Media or Shaw's Corus Entertainment accuse of hosting content that infringes on their copyright.
And that's only the half of it! According to the proposal, intermediaries like ISPs and libraries could lose many of the protections they currently enjoy from frivolous lawsuits from rights-holders, exposing them to considerable legal risk.
The government's disturbing solution? They're suggesting intermediaries develop their own censorship policies to avoid being sued, and that they consider options like handing out suspensions to users, proactively blocking websites that are named in infringement notices, and even permanently banning users that rights-holders have complained about. It opens up potentially thousands of people to the risk of being suspended or disconnected from the Internet — all without a real court ever examining their alleged copyright "infringement"!
Who or what is behind all this?
Believe it or not, this isn't the first time it's been put forward. In fact, Bell has put forward different versions of this website blocking proposal — ironically dubbed "FairPlay" — repeatedly for many years, including at the CRTC, during NAFTA renegotiation, during the government's BTLR review, and during previous copyright consultations.
Bell's proposal has been rejected at every turn so far, including back in 2018 by the CRTC, and by Parliament during the INDU committee's 2019 review. Each time, intense backlash from experts, civil society, individuals, and members of the OpenMedia community have helped ward it off. And now that it's risen from the dead, it's our job to defeat it once again!
What's next?
Canada has spoken, loud and clear. Not only did over 14,000 members of the community send in their comments to the consultation, OpenMedia also authored a separate submission calling on the government to plainly reject website blocking. You can read our submission here.
As our submission states, the government MUST report on what they heard from people in Canada during the public consultation for their website blocking proposal. With the help of community members like you, OpenMedia will keep holding our lawmakers to account as we continue to defend the free and open Internet!