Your outrage at Canada's broken Internet is on full display
OpenMedia's mobile billboard ads are demanding positive change in downtown Toronto.
OpenMedia is starting 2022 in the way we know best: with an all-out ad campaign demanding our government fix our Internet. How? By fulfilling their broken promises to fix Canada's sky-high prices for Internet and cell phone services, and thoroughly reforming their overreaching online censorship and surveillance plan. Thanks to a surge in support from community members like you, our 2022 voice is louder than ever!
Our attention-grabbing mobile billboard campaign took to Toronto's streets on January 13, where thousands of members of the public in Toronto caught sight of our demands. This is the first step in taking action and no longer having our need for affordable connectivity and secured communications ignored.
Why are our cell phone and Internet bills so high?
Canada has some of the highest telecommunications prices in the world, and everyone knows it. Back in 2019, our government made a promise to lower our wireless bills — a promise that never materialized for the vast majority of Canadian households. But they've also stood by as the situation has grown worse. Under the government's watch, the Canadian Radio-television and Telecommunications Commission (CRTC) not only blocked the introduction of low-cost cell phone providers to Canada, but also issued a decision on Internet wholesale rates that directly led to price hikes. CRTC chair Ian Scott was even caught having a cozy one on one beer with Bell CEO Mirko Bibic– with no consequences or public rebuke. As you probably know, Rogers has announced plans to buy out Shaw, signalling an even less competitive and more expensive connectivity future in Canada, and yet the government has chosen to remain silent rather than commit to blocking the sale.
In 2022, affordable connectivity appears to be the last thing on the Trudeau government's mind. During the federal election, the party dropped almost all references to telecom affordability in their platform. Now, as our government kicks off with a new mandate, it seems as though they want us to forget they ever promised to lower our bills in the first place. But we're not going to let them off that easily. We'll be calling for Canada to be globally competitive on telecom pricing throughout the year!
What about harmful content online?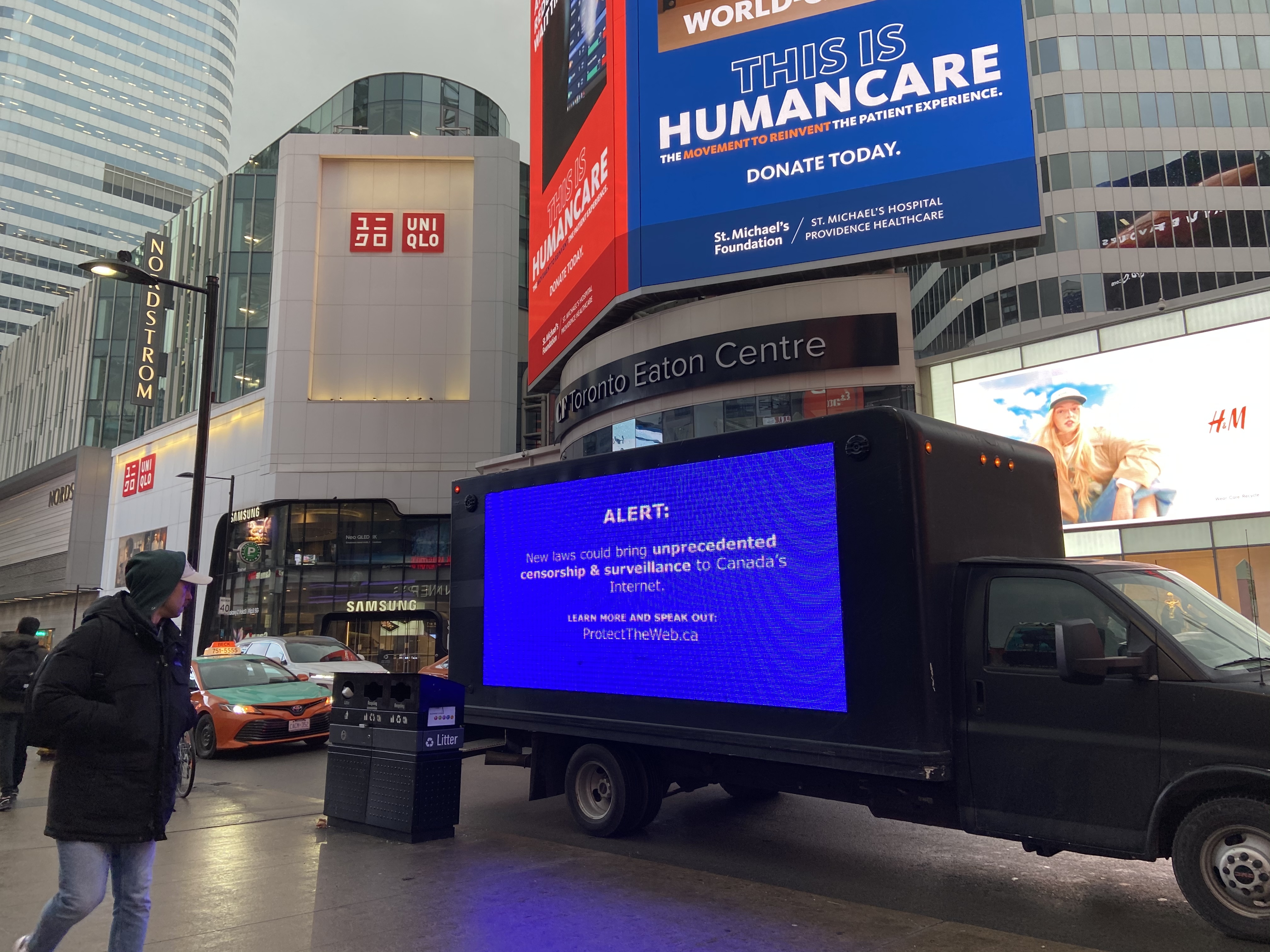 In summer 2021 the government of Canada released their first draft of their plans to address harmful content on online platforms like Facebook and Youtube — and it was an absolute disaster for our rights and freedom of expression. We called it an unprecedented system of online surveillance that could make Canada's Internet amongst the most censored and surveilled in the democratic world. An overwhelming number of civil society organizations in Canada and abroad also noticed how extreme this plan was, and took part in the public consultation the government ran, which closed on September 25th 2021.
Right now, we have a huge opportunity to fix this proposal. To date, the government has refused to publish the submissions they received, or to comment on the results of their consultation. But there's some hope the government is listening. On December 16th 2021, Prime Minister Trudeau issued new Heritage Minister Pablo Rodriguez his mandate letter, outlining his key responsibilities for the next few years. Notably, Rodriguez has been instructed to review the harmful content legislation, "reflective of the feedback received during the recent consultations."
Now we have an opportunity to get this right. If Minister Rodriguez takes the extensive feedback his department received to heart, Canada has a chance to fix the consultation proposal's many mistakes and actually create a positive vision for the Internet in Canada.
This can be the year we put a stop to our sky-high Internet and cell phone prices, and set our Internet on the path to defending our rights and empowering us as Internet users– not censoring and surveilling us.
We need you to make it happen. Join thousands of other members of the community in emailing Trudeau and Cabinet: Bring down our Internet and cell phone bills to match up with other countries, starting with reversing the CRTC's Internet price hikes. And don't stop there; send your message to our Heritage Minister demanding he thoroughly overhaul the government's harmful content proposal to reflect Canadians' feedback!