Donor Report Fall 2021
2021 Donor Report covering 5 success stories from the past few months.
This summer was a busy time for OpenMedia!
Here are our top five wins from the last few months that would not have been possible without the support of our grassroots community donors (that's you!).
Thank you for all that you do. Thank you for supporting OpenMedia.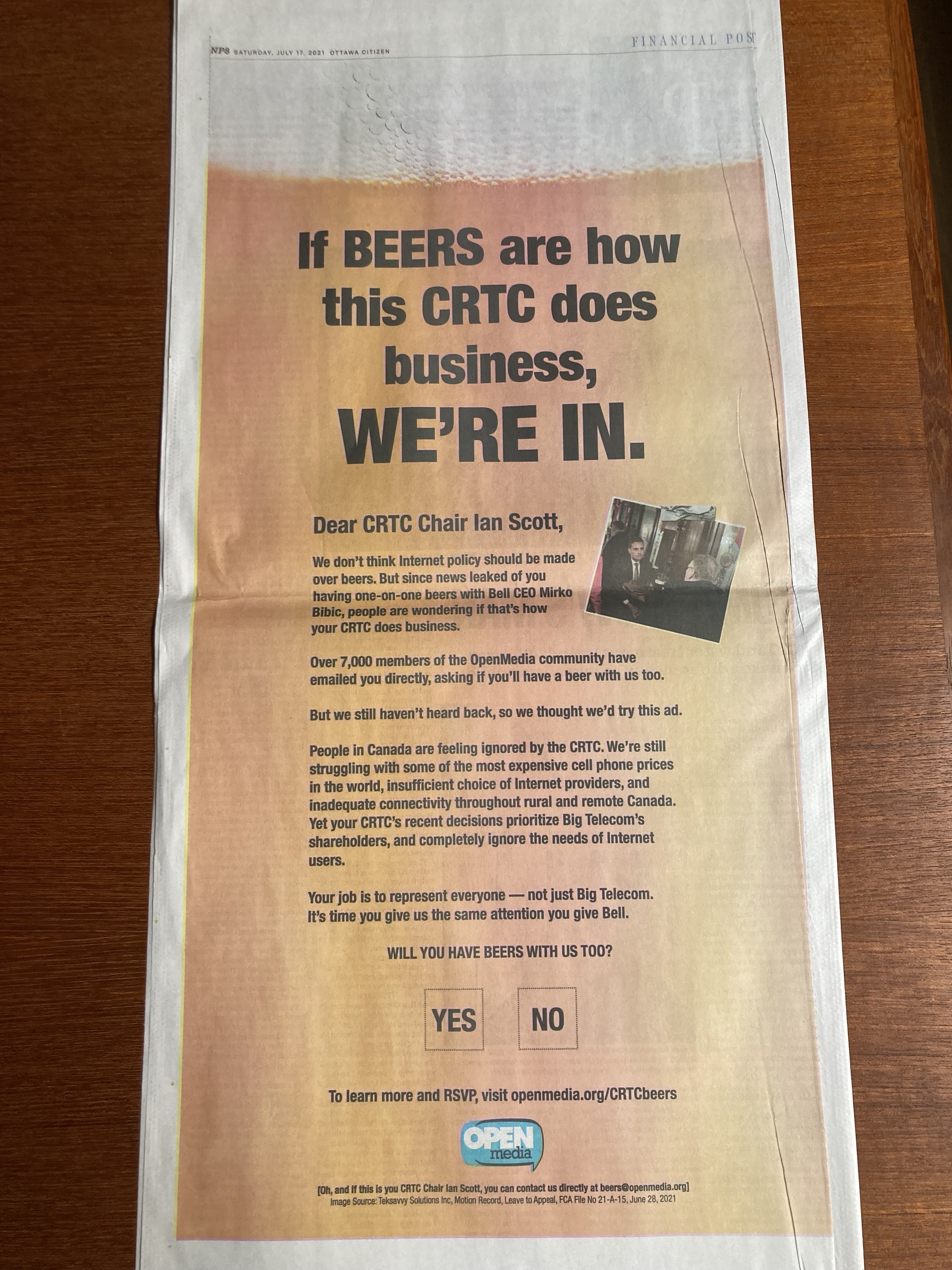 We held government officials accountable, making their decisions to raise internet prices full page news.[1]Because we're funded by grassroots individuals like you, we were able to publicly call out CRTC chair Ian Scott for his betrayal of Canadians. When he raised wholesale Internet rates, he'd had dozens of meetings with telecom executives like Bell's CEO Mirko Birbic – including a one-on-one beer at a pub. That's why we bought a full page ad asking him to have a beer with our community, too. The ad, which was designed as an invitation to have beers with the public, was placed in the Ottawa Citizen, the newspaper under the arms of everyone in Ottawa, from Justin Trudeau to the owner of Scott's local pub.
We fought to block the competition-killing purchase of Shaw by Rogers.[2] With your support, over 62,000 individual signatures were delivered to the government demanding that the acquisition of Shaw by Rogers be blocked. We joined with North99, LeadNow, and ACORN in mobilizing communities across the country in making their voices heard. And it paid off in a direct meeting with the Competition Bureau to present our case against the merger – though whether they heard us is still to be determined. This fight is far from over.
We went on-record about affordability issues in digital connectivity.[3] Because of you, we had the capacity to create detailed submissions to the government's consultations on our affordability crisis to accompany the petition signatures of our concerned community. This summer, we put stories from everyday people on the official record in INDU's (the Standing Committee on Industry, Science and Technology) report on the affordability gap, where we hope it will serve as the backbone to future policy decisions that affect us all.
We put digital rights issues on the docket for the federal election.[4] Thanks to donors like you, we were able to create a tool that helped our community to deliver our pro-Internet platform in over 30,000 emails to candidates of all parties in EVERY RIDING in the country. After our campaign we've seen a significant increase in parties and candidates speaking out directly about our issues, and about Internet affordability in particular, with several MPs and party leaders speaking out about reversing terrible CRTC decisions, standing up against the Rogers-Shaw merger, and protecting freedom of expression. None of it would have been possible without you.
The defeat – for now – of Bill C-10, a clumsily conceived, sloppily written, and horribly revised bill.[5] Despite a last minute effort to ram Bill C-10 through parliament, the egregiously written legislation to update our Broadcasting Act was stalled at the Senate in June. Thanks to a public outcry that you helped create, Senators promised to give it a full and thorough reading or send it back to the House rather than a rubber stamp it through as the government desperately wanted. The proposals are slated to return in the fall, meaning this may just be the beginning of this fight. But, thanks to you, we'll be there to fight it, for Internet users as well as for online creators, many of whom continue to be excluded from funding opportunities and overlooked in the conversations about similar bills promising funding for cultural content.
Thank you for your support of OpenMedia. This is just a brief sample of what we've been working on, and what's to come. With the dust only beginning to settle from last week's federal election, we're parsing the promises and threats all the parties made about our Internet. We're ready to fight the worst ideas our politicians and the lobbyists that target them come up with — and we never stop calling for and supporting the changes that empower you; your rights, your privacy, and your fast and affordable access to the Internet. We could not face these threats without you and your generous support.
Thank you.

Footnotes: