You made it happen: Your outrage at government's coziness with Big Telecom on full display
OpenMedia's mobile billboard ads just finished circling Parliament, the CRTC, and the Toronto International Film Festival — all ramping up our relentless pressure on the federal government to fix Canada's Internet.
UPDATE: Over 53,799 members of the OpenMedia community sent emails to Minister Bains, calling on him to explain why the government sided with Big Telecom over Canadians. Now, with his replacement François-Philippe Champagne in office, we won't stop asking for accountability. Stay tuned to add your voice!
---
OpenMedia just wrapped our all-out ad campaign demanding to know why the federal government hasn't lifted a finger to support affordable, fast Internet for all in Canada during the pandemic. Thanks to a surge in support from community members like you, we took the fight for Internet access and affordability right to the government's front door.
With your help, we went big! Our attention-grabbing mobile billboard campaign — plastered on all sides of a truck — circled Parliament and the CRTC for days. And the icing on the cake: the ads also debuted at the Toronto International Film Festival (TIFF), the city's first major public outdoor event since the start of the pandemic.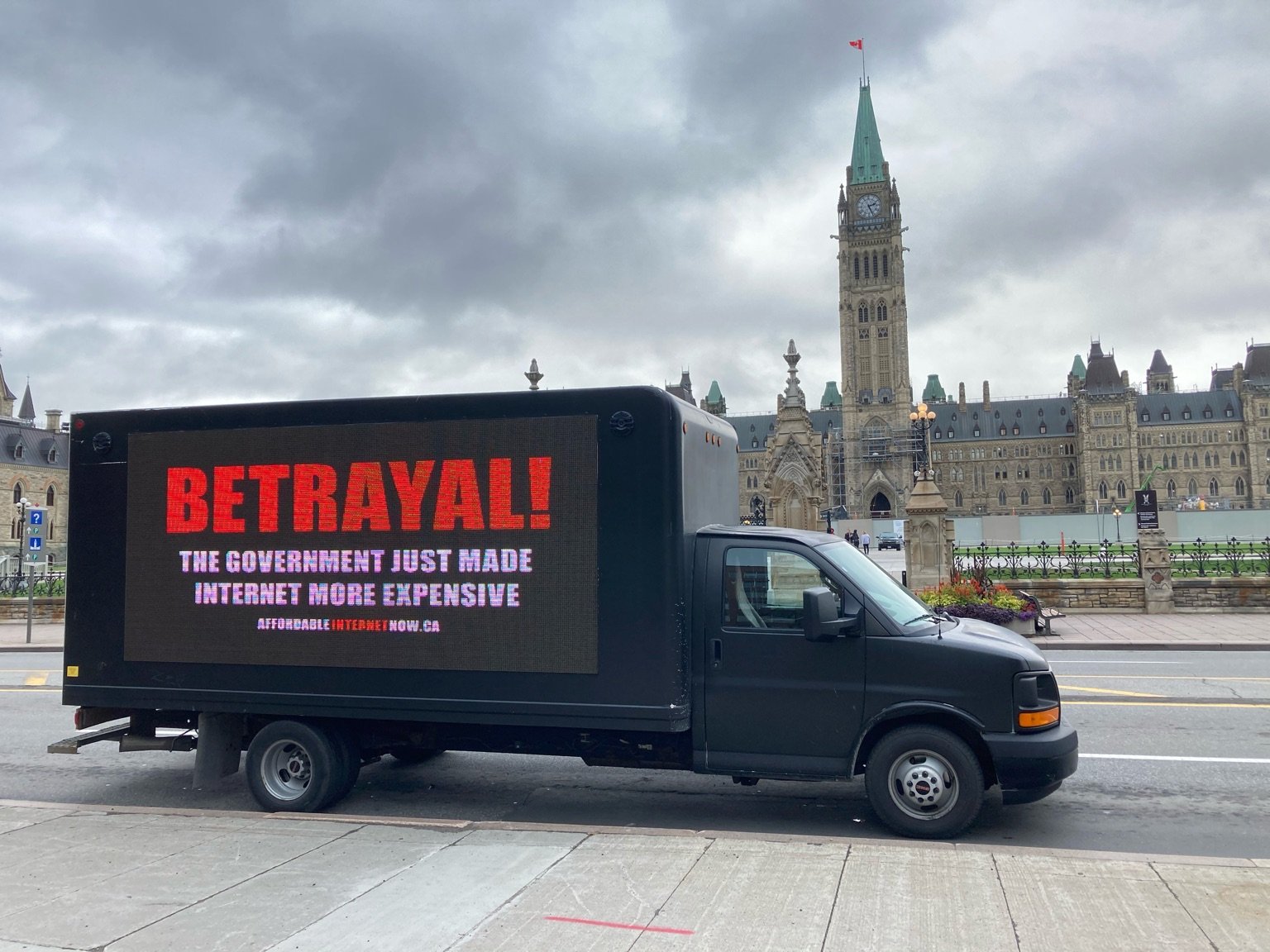 Politicians and government staff were in for a big surprise on Parliament Hill the morning of Sept. 9: a big ol' truck circling their place of work, plastered with some choice words from the Canadians they represent.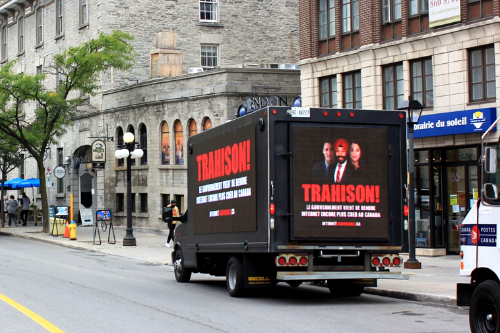 But OpenMedia didn't stop there; we also sent our truck to circle the CRTC's headquarters in Gatineau.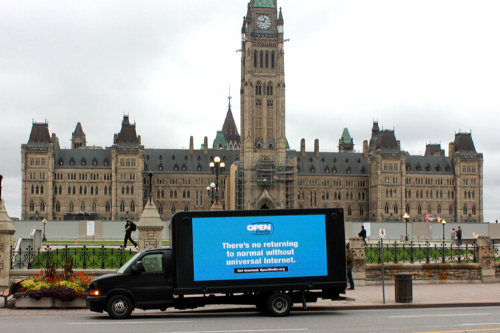 Parliament and the CRTC were greeted with the same sight every morning for DAYS — and even on their commute, if they were lucky!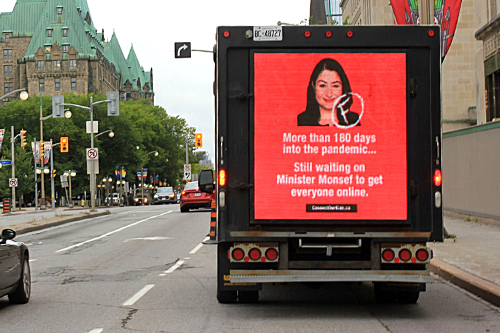 Imagine looking out your window and knowing that message was meant for you. Thanks to the OM community, our politicians don't have to imagine. 😊
And that's not all. We sent yet ANOTHER truck to drop in at TIFF, this time for 10 whole days. Thousands of members of the public in Toronto caught sight of OM's mobile billboards at TIFF - the first major public event since the COVID-19 shutdown - calling on our government to deliver on its promises of affordable & accessible Internet.

When COVID-19 hit Canada in March, our government quickly took action to deal with the health and economic fallout. Yet despite our public health officials recommending that work, school, and other basic services move online for much of the last six months, the government has done very little to make it easier for us. And that hit low-income, rural and Indigenous communities — AKA, the folks with the least access to affordable, good-quality Internet — especially hard.
These billboards represented the sheer frustration and outrage we've heard from the OpenMedia community about having been betrayed and abandoned by our own government. It's simply unacceptable for our leaders to make much-needed promises of affordability and connectivity, and then abandon their constituents when they need it most.
Case in point, in August, Minister Bains chose to side with Big Telecom and undermine affordable Internet, leaving hundreds of thousands of people in a lurch at a time when they need the Internet the most. Equally at blame for the state of things is Minister Monsef; despite her claims back in June that funds for Internet access projects would open "soon", we've heard exactly zilch more from her about it three months later.
I can't stress enough: this is the worst possible time to deepen Canada's digital divide. One in 10 Canadian households do not have access to high-speed home Internet — either because they can't afford it, or because it isn't offered in their communities. Countless students are being forced to attend in-person schooling because they don't have the option for online learning. Over 8.5 million people have applied for Canada Emergency Response Benefit, as unemployment levels have skyrocketed across the country.
Enough is enough; Canadians are done playing the waiting game with our government. We need to go beyond Bains, Monsef, and Trudeau if we want real action to fix Canada's Internet. Parliament is back in session — so we're asking every Canadian MP to step up. Will you email your MP demanding to know what steps they're taking to bring affordable Internet to your riding?