Your voice, DELIVERED: 23,000+ action takers speak out against monopolies!
Together with Ekō, the OpenMedia community is calling out Canada's monopolies.
What's happening?
We just had a once-in-a-century opportunity to FIX Canada's broken competition market! The government hosted an open consultation on reforming Canada's Competition Act, the flimsy piece of legislation that has let through buyout after competition-killing buyout!
Canada badly needs new competition laws. Weaknesses and loopholes in the Act let mergers and buyouts move forward in spite of hurting competition and affordability, and severely limit the powers of the Competition Bureau to take any meaningful action to hold monopolies accountable for abusing their dominance in the market.
What the OpenMedia community (YOU!) did
We created the Anti-Monopoly Charter so you can join us in demanding a fairer Canada – one WITHOUT Big Telecom, Big Tech, and Big Grocery! It recognizes that monopolies are taking over Canada, demands that our laws protect us and not corporate giants, calls on the government to block monopolies from getting any bigger and find ways to hold them accountable, and reveals how monopolies threaten democracy and a fair society.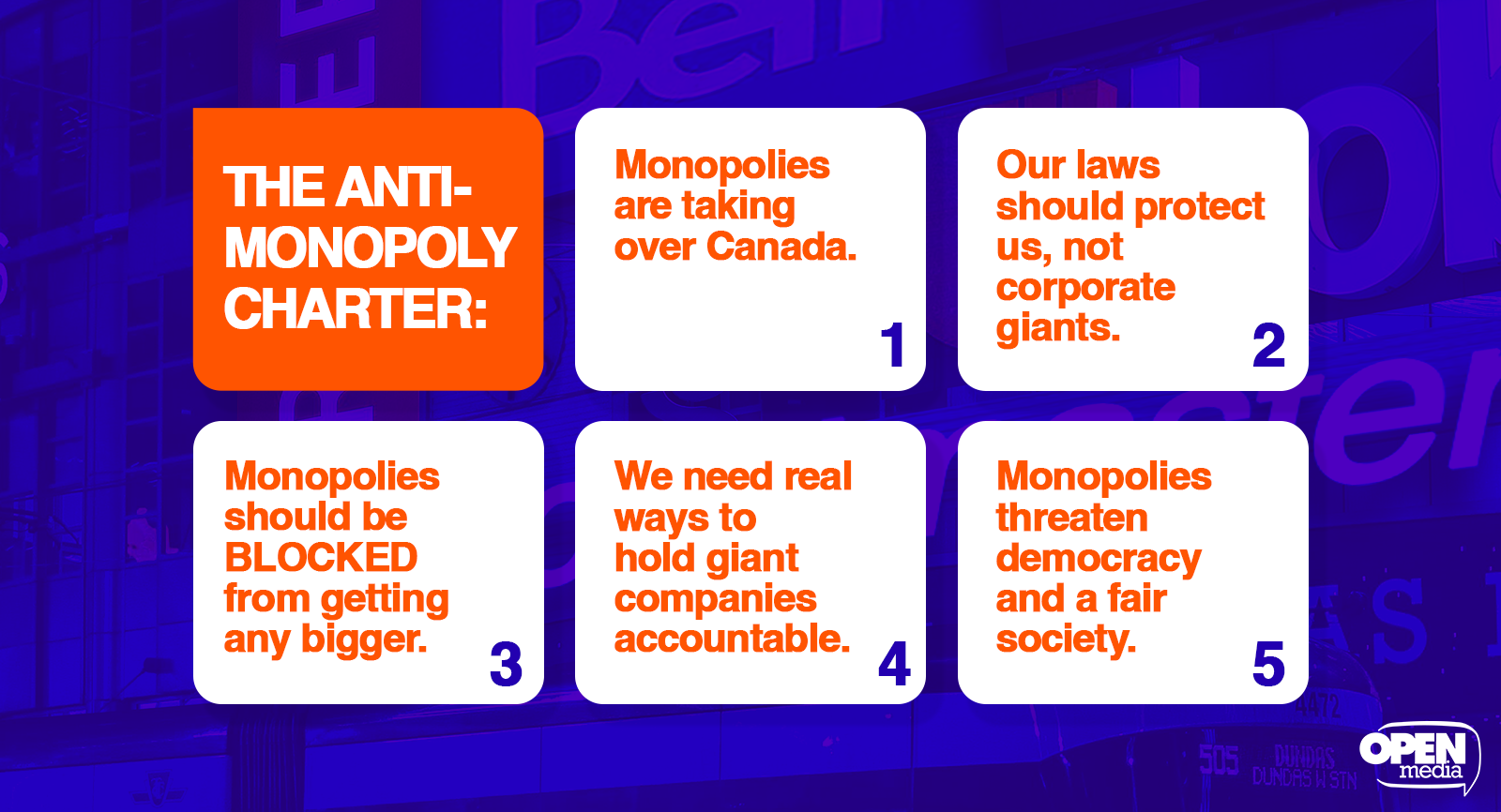 More than 23,000 people in Canada took action to support the Anti-Monopoly Charter! More than 10,000 people signed the OpenMedia petition and more than 13,000 signed Ekō's petition.
Together with Ekō, OpenMedia also made a formal submission to the consultation that you can view below, which was delivered with more than 400 unique comments from members of the OpenMedia community.