British Columbians spoke out by the thousands calling for better cell phone plans
The B.C. government's survey on cell phone contracts was a huge opportunity for cell phone users. Here's how the OpenMedia community rallied to speak out for bold change.
Just over a month ago, the B.C. government launched a survey to hear about the experience of British Columbians with cell phone contracts. It was the first step in an effort to increase billing transparency and strengthen customer protections in the cell phone market. 
This was a rare opportunity to influence customer protections that can put limits on the powers Big Telecom has over customers. That's why the OpenMedia community rallied together to speak out by the thousands for bold changes that can make B.C. a leader in cell phone customer protections!
Earlier this week, our very own Marie Aspiazu met with MLA Bob D'Eith, who is spearheading the community consultations. She handed over our recommendations on how B.C. can improve the provincial cell phone markets, and delivered nearly 3,000 petition signatures from OpenMedia community members backing up these recommendations. 
You can read our submission to the B.C. government at the bottom of this blog or download it by clicking here.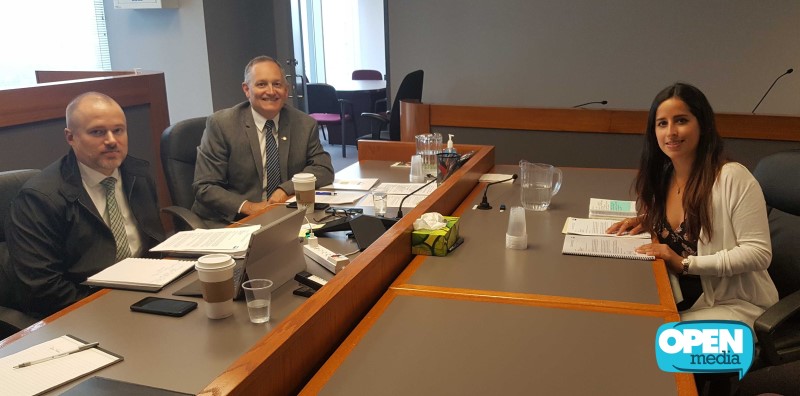 So What's Next?
At the meeting, MLA D'Eith confirmed they heard from thousands of British Columbians through the survey, social media and in-person meetings. The government will be publishing a report summarizing the results of this consultation. 
We know the government will also be hearing from Big Telecom's lobbyists and our hope is that the voices of everyday cell phone users will take priority over corporate interests. 
For now, we'll wait for their "what we heard" report and for any future legislation tabled by Public Safety Minister Mike Farnworth. 
Thank you so much to all the community members who took action on this issue! Your voices make a huge difference and will have a serious impact on the upcoming legislation to improve customer protections for British Columbians.