This election is an opportunity to rethink Canada's digital future
Canada's telecommunications system is going through a major overhaul, and the next government will decide what direction we go in.
The election is just around the corner, and the cost of living has consistently come up as a top election issue in poll after poll. While many factors like housing and childcare have no simple solution, there is one thing that this year's candidates can promise that can have a noticeable impact on our wallets: the cost of telecommunications services that Canadians need to access the digital economy. 
We all know that Canadians pay some of the highest cell phone and home Internet bills in the world. But that doesn't have to be the case. 


Source: Rewheel/research: http://research.rewheel.fi/downloads/The_state_of_4G_pricing_DFMonitor_11th_release_1H2019_PUBLIC.pdf
Ultimately, our high prices can be explained by the lack of competition in the telecommunications industry.
For decades, the Big Three have had tight control over our telecommunications services. With the help of failed government policies, they have built an oligopoly that keeps cell phone and Internet prices high, while chronically underinvesting in rural communities. 
This has allowed them to have one of the highest profit margins of any telecommunications industry in the world.
But it doesn't have to be this way. 
We know that increased competition can help lower prices. We don't even have to look at faraway examples like Israel. We just need to look at places in Canada where alternatives to the Big Three exist. 
Saskatchewan, for example, has the lowest wireless prices in Canada. That's not because the province has worse service (it doesn't) or higher population density (it doesn't). 
It's because there is a fourth big player in the market – Sasktel. The presence of a fourth competitor has forced the Big Three to lower prices and increase investment to be able to compete with Sasktel. This is similar to what Videotron did in Quebec, or what Freedom Mobile accomplished in urban centres. 
More competition led to lower prices.
We've seen the same trend in the home Internet market, where chronic underinvestment has excluded rural communities from the digital economy.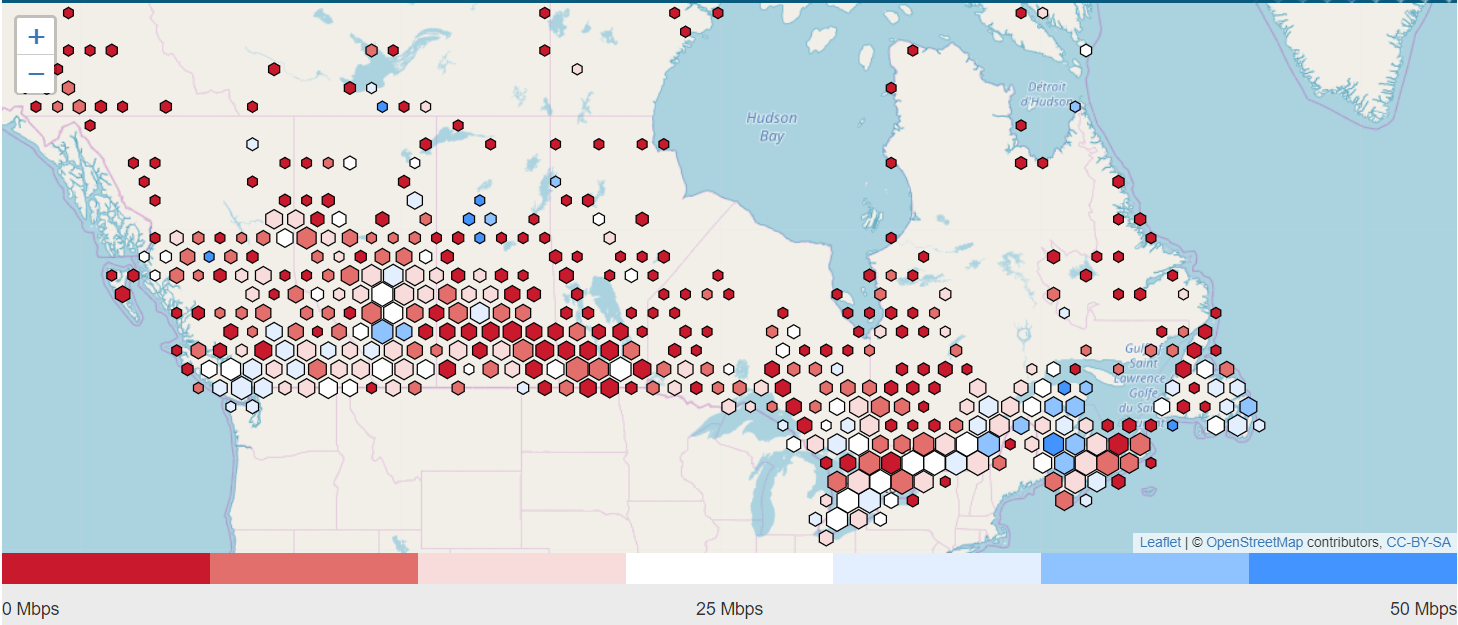 Screenshot from the Canadian Internet Registration Authority (CIRA) speed test results from across Canada
Source: https://performance.cira.ca/
The exceptions are those communities that have built their own networks to compete with the Big Three, like Prince Rupert and Kaslo in BC. These are small communities that grew tired of waiting on the Big Three to bring high speed Internet to their communities, and instead built their own networks. 
They now have higher levels of connectivity and faster Internet speed than most rural Canadians – I would know, I am a happy customer of CityWest in Prince Rupert. 
So, what does all this have to do with the election? 
Canada's telecommunications systems are undergoing a major overhaul through the Broadcasting and Telecommunications Legislative Review and the CRTC's new policy direction that emphasizes competition, affordability, consumer interests and innovation. 
This means that the next government will be key in determining Canada's digital future as the Broadband and Telecommunications Legislative Review concludes and the CRTC's new policy direction is implemented in upcoming decisions. 
Our candidates for MP need to hear from us so they know that Internet access and affordability is a top priority for everyone. That's why we need to contact our candidates in their ridings and tell them about our experiences dealing with our country's broken telecom market.
To ensure everyone in Canada has access to affordable, reliable and fast wireless and home Internet, we need more competition, more government investment in rural community broadband, and affordable plans for low income earners and seniors.