A look back at our Stop the Meter campaign
The Stop the Meter campaign was one of the earliest campaigns our organization took on — and, for many Canadians, it was the first time they ever heard of OpenMedia. Check out this infographic for more on how we mobilized over half-a-million Canadians to secure a historic win for the Internet:
It all started back in May 2010 when the Canadian Radio-television and Telecommunications Commission (CRTC) gave Bell, one of Canada's telecom giants, permission to use usage-based billing (UBB), effectively putting a pay meter on our Internet.
Even worse, in a follow-up decision in October 2010, the CRTC gave Bell permission to force smaller, independent Internet providers to adopt usage-based billing too, closing off any option for Canadians who'd prefer to just use the Internet without having to pay for every megabyte they download. Forcing these desperately-needed independent providers to put a pay meter on their customers' Internet would have effectively forced them out of business.
Now, back in those days, the CRTC was quite a different beast than what it is today. All too often, it saw its role as primarily safeguarding the interests of the giant telecom companies, rather than listening to the views of Canadians. So we knew from the start that we'd need to pull out all the stops if we were to push back effectively.
We rolled into action by launching a rapid response petition, and within 24 hours over a thousand people had signed (a huge number for us in those days, when our community was far smaller than it is today). The fact that Shaw and Rogers had joined Bell in forcing their customers on to usage-based billing was clearly prompting Canadians to sit up and take notice.
It wasn't long before our campaign started to snowball: Vancouver Council passed a motion against UBB and, by early January, a whopping 25,000 people had signed on to our StopTheMeter.ca petition (helped by videos like this one), attracting media interest and helping to really put pressure on the politicians in Ottawa. Even today, many years, later, iconic posters from this phase of our Stop the Meter campaign still grace the walls at our Vancouver headquarters: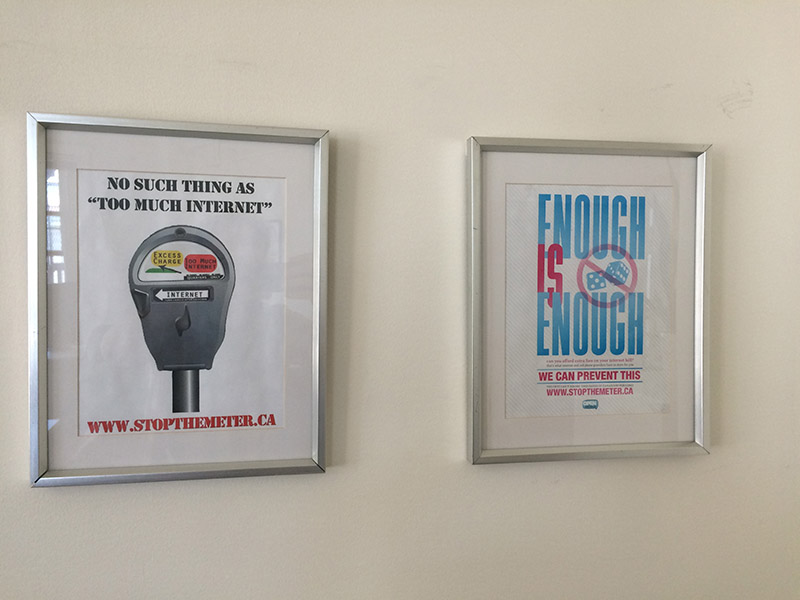 By the end of the month the opposition NDP and Green Party were speaking out on our side, our petition had grown to over 160,000 people, and it wasn't long before the Liberal party (then in opposition) also came on board.
At this point our campaign was growing at a pace that nobody in Canada had seen before. By the end of February we had over 400,000 on board, making it the largest political campaign in Canadian history. The media were all over it, and pressure on the Conservative government to force the CRTC to reconsider its approach was becoming irresistible.
And that's just what happened: the government just couldn't ignore the fact that hundreds of thousands of Canadians were speaking up, so they ultimately told the CRTC to take another look. At this point, the door was wide open, and we made certain that the voices of citizens were heard loud and clear at the ensuing CRTC hearing.
At the end of the day, the CRTC finally released a revised decision in November, reversing their earlier ruling, and liberating Canadians from the Internet pay meter. The ruling, while not perfect, also ensured that indie ISPs could stay in business, although even now, 5 years later, we still have much work to do to ensure they can operate on a level playing field with the giant incumbents.
Needless to say, this win was an incredible boost for our organization — and it all went down at a time when our staff consisted of just four people — Steve, Lindsey, Reilly, and Shea, our original famous four — and a modest crew of valiant volunteers, a fraction of the resources we have today. It was a remarkable time, and one that's still very close to the hearts of the OM team. 
Our work continues...
Last but not least, our work to ensure all Canadians can have affordable Internet access continues. Be sure to check out these live campaigns and make your voice heard — as we saw with Stop the Meter, when Canadians speak up in large numbers it really makes a huge difference:
End Data Caps: speak up now to tell the CRTC to uphold Net Neutrality, ban zero-rating, and free Canadians from punitive data caps on wired and wireless Internet.

Unblock Canada: endorse our open letter to demand affordable, world-class broadband access for all Canadians.