Gearing up for an election against Bill C-51: Interactive timeline
Yes, it's just about that time again: election season! Rumours speculate that the federal election may be called as early as this Sunday. And if the OpenMedia community (alongside a broad-based coalition of civil society organizations, businesses, and empassioned Internet users across the country), has anything to do with it — Bill C-51 and privacy will be the key issues we have our politicians talking about this fall. But before we head into what is sure to be an exciting election season, we wanted to take a look back on just how far we've come. Right from the start, the OpenMedia community has been leading the way in the fight against C-51. The way that this campaign has grown and escalated over the past few months is beyond what we had ever imagined.
Over 285,000 people have signed our petition against this dangerous bill. Rallies have been held in over 70 communities. Multiple political parties have come out promising that they will repeal the bill if elected. We've crowdsourced a positive solution to protect Canadians' privacy with input from over 125,000 people.
And, of course, let's not forget this amazing viral image courtesy of our friends at Leadnow that went so viral it made headlines: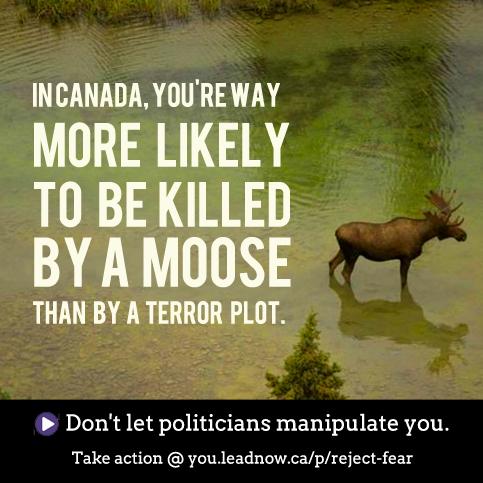 (Just one of many amazing share images created by our community and partners throughout this campaign!)
There have been many key moments in this campaign to date, and we are not done yet.
C-51 may have passed, but we are not backing down until it is is repealed. We are in the midst of a push to get our Kill C-51 petition past 300,000 signatures. We are working to create a platform for pro-Internet candidates in the upcoming election. And when the election is over, we'll be holding our new elected officials accountable to their campaign promises on our digital rights.
To help you see how far we've come, we've put together an interactive timeline with some of the key moments in the campaign.
Scroll through the timeline below to see just how far we have come (and where we're headed next!):
Our voices are making a difference.
We already have over 285,000 signatures on our petition to have C-51 repealed, at killc51.ca. If you haven't shared it with your friends yet — now's your chance! Check out our leaderboard, and see how you can help us spread the word.
Currently holding the top spot on our Kill C-51 leaderboard, OpenMedia community member Ben Kendrick told us, "C-51 infringes on our Charter rights. It's our own version of the Patriot Act in the U.S., and we don't need that. That's not Canadian. It goes too far."
Join us in the fight to Kill C-51, and stay tuned for more on how you can join our campaign this election season to hold our politicians accountable for our digital rights!
Did we miss a key moment in the campaign against C-51? Submit it in the comments below, or share it with us on Facebook or Twitter!