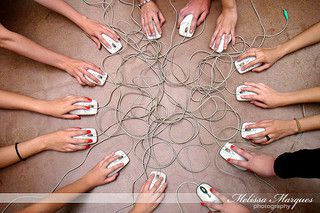 OpenMedia original article
Why I support OpenMedia: Your stories
---
Sue's Story:
For me, OpenMedia speaks to hope for a more humanitarian and democratic world, and a sense that I can be part of that. I think the Internet is a powerful tool for democracy.
I feel quite powerless in the face of the threats to the Internet by power brokers that seem to govern the world. The issues are big and complex and I don't know where to start. OpenMedia has offered me a place to go whose approach and agenda make sense to me. So if I can make some small regular contribution to encourage the OpenMedia team, I am there.
I look at what is happening – I am very worried for our world and the deck feels stacked. I think, the least I can do is try my best to support and encourage those younger than me who can lead us. So I sign on with OpenMedia and contribute as best I can.
OpenMedia offers hope. Please help OpenMedia continue their important work and give hope to people like you and me.
Ben's Story:
I first got involved in the fight for a better Internet through the EFF. As a avid computer user and a network technician since childhood, by interest and necessity, the Internet and it's management matters to me. Often times I would see it misused in manners that were destructive to the people. Lawsuits over stupidity or to attempt to enforce monopolies are frustrating. Actions that look to be corporate actions to manipulate governments may be not valid sometimes but it is obvious the places with money use it to influence things in its favor, which is usually not in ours.
Nevertheless, we out number those attempting to influence our leadership with money, we simply need to take action. We can seek to make our world better too, we do not need to let the rich take action alone. Ultimately money only goes so far before people realize you either vote for the betterment of the people or they will kick you out onto the streets to be replaced by someone who will work for the betterment of the people.
I am for developing strategies to counter those of the rich monopolies. We have bent over backwards to let others control our lives for too long. It is our internet, our choices, our votes that matter here. Now is the time too act, too take action to stop grandmothers and the dead getting sued for huge sums of money for downloading a dozen songs. It is terrible but they still take these action, and refuse to listen to new business concepts people have created for them, to help them make money. Ultimately there is only one reason I can see why they would do that. A better business model has been found. Create a product people will download, and start suing for millions.
Ultimately I support groups like OpenMedia because I have lost faith with the concepts supported by the Fortune 500. I want to support a system that is willing to develop for the better rather than building a model to fight to stop change from occurring.
Anne's Story:
My motivation for supporting Open Media is concern about internet privacy and open access to information. I have a background in community based research and currently work in the field of knowledge mobilization. In both cases, the goal is to get the right knowledge to the right people in order to create and support social change. The internet is an essential means of both finding and distributing knowledge.
Open access to knowledge sources, whether primary research published in an academic journal, community organization reports, search results, or conversations taking place on social media, is a foundation of research and of making good decisions based on that research (i.e., to set policy and shape practice). I support Open Media because I feel that they are doing a great job of alerting me to new issues relevant to Canadian internet access and freedom, and of advocating for sensible digital and online policies that support open and affordable access.
Kelly's Story:
I watched you for a while, read your site and updates. Signed petitions if I felt it was something I supported (which was most of the time). After the StopTheMeter.ca decision was overturned in part due to the overwhelming success of your campaign – you continued to help keep me informed of new threats to our freedom and I in turn started sharing your links more consistently.
I became an Open Media Ally for two reasons. I know my $5 is not the difference maker alone, but when combined with the strength of a thousand or ten thousand $5.00 bills it becomes something much greater. Much like the voices that have rallied to Canada's causes under your banner. Secondly, you saved me time and energy researching. While I still often read more, follow your footnote links and make my own assessment by reading other sources before linking your articles, you rarely disappoint and the odd time that you have I have sent feedback saying as much. In the end you're worth more than $5.00 a
month – I know how much work it is to gather and present facts in a way that doesn't polarize or bore people,
Peter's Story:
A bit about me. I am a long time technology enthusiast. I remember making my first computer program on an old vic 20 my Dad had picked up at a yard sale when I was in Grade 4. In high school I enjoyed being a computer geek before that was cool. I graduated high school the year of the dotcom crash so I took a different career path away from computers. Now at 31, I am a community Social Worker who works in mental health. I love my job and I find my computer interests to be quite useful in my day job whether it is helping co-workers figure out a computer question or assisting my clients in making use of the Internet to solve problems and find information relevant to fulfilling their needs.
I initially heard about OpenMedia on an online forum. I use Teksavvy as my ISP and both the TSI staff and board users were very much interested in fighting UBB. I was also a regular listener of Jesse Brown's podcast who talked at length about UBB and Open media got mentioned there. Since I was hearing so much about you guys I checked you out and liked what I saw. At the time I think what I found most appealing about the UBB issue is that it appealed to even my non-tech friends. I had two co-workers paying extra for the bandwidth their kids were using and they couldn't believe how fast overage charges could add up. It was something we could all relate too. OpenMedia was carrying the torch for this issue and because of that I decided to learn more about you. I got friends and family to sign the petition through Facebook.
The short answer as to why I donate is because I like your values and you do the advocacy work that I wish I had the time and energy to do but I don't. The long answer:
I do feel that the Internet is a life improving technology. I'm thankful it's numerous founders purposely built openness into the technology and protocols the internet uses today even though it didn't have to be this way. I get nervous when there was talk of ISPs giving preferred access to different websites or governments that invest in censoring and monitoring firewalls. Certainly when I looked at the values of OpenMedia, it was clear you felt the same way.
My path to Social Work and the education that surrounds it has been fuelled by my interest in Social Justice and Humans Rights. Your principles of Access, Choice and Openness are particularly appealing to me. They are values that are fundamental to the work I do in Social Work and I like seeing them in a technological context. When I was younger I used to love to write letters and advocate for social change. I find my time and energy get sucked up with my day job and I don't do these things as often as I would like.
I donate to OpenMedia because it does the advocacy work I would like to do but don't have the time and energy to do myself. I feel having an open internet is important but it could become an easily neglected topic in the public consciousness. Because of this, I also donate to OpenMedia because I want to hear a strong advocacy and pro-user voice in the public discourse.
Finally, I work with a client population who live in poverty and suffer from significant mental illness. Most of my clients find the cost of a computer and internet connection combined with the learning curve associated with accessing these technologies too much of a burden to integrate internet access into their regular lives. For this reason, I found OpenMedia's principle that every citizen should have access to fast affordable internet to be quite appealing.
---
Join us in showing that the pro-Internet community is worth fighting for. Make a monthly contribution to OpenMedia at OpenMedia.ca/Allies »
Comments