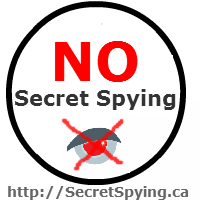 OpenMedia original article
What a response! Canadians speak out in the thousands to demand an end to secret spying
These revelations followed hot on the heels of news that the U.S. National Security Agency had also been spying on the private phone calls and Internet activities of millions of people around the world. The NSA is a partner of CSEC in the 'Five Eyes' program (a long-standing intelligence-sharing arrangement between the U.S., Australia, Canada, New Zealand, and the U.K.) and it now looks like CSEC has been working through the NSA and its 'Five Eyes' partners to circumvent surveillance laws that prohibit CSEC from spying on Canadian citizens.
OpenMedia.ca, through our No Secret Spying campaign, is calling on the government to make public the details of Canadian intelligence agencies' online spying and data-mining activities, including those involving foreign states. It's vital that Canadians get answers about the extent and details of this mass surveillance program in order to have an intelligent and informed debate about issues of surveillance and privacy in Canada.
We want to say thanks to all the groups that have joined our No Secret Spying campaign thus far, including Leadnow, Amnesty International, BC Freedom of Information and Privacy Association, Privacy & Access Council of Canada, Rocky Mountain Civil Liberties Association, the BC Civil Liberties Association, Alternatives, The Council of Canadians, International Civil Liberties Monitoring Group, Association of Progressive Communicators, Web.net, the Canadian Civil Liberties Association, Greenpeace Canada, and the Canadian Council of American-Islamic Relations.
Canadians are speaking out to demand an immediate stop to all programs of indiscriminate and arbitrary blanket surveillance, and we call on the government to tell us exactly what is going on in our name.
We deserve to know if our sensitive private information is being recklessly collected and stored in giant databases, and why. The more people who speak out, the stronger our voice will be – so join the over 10,000 people who have already taken a stand to tell the government to stop secret spying at http://SecretSpying.ca
Comments