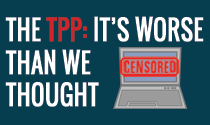 OpenMedia original article
Their secret revealed
Wikileaks just made public secret documents that show how U.S. lobbyists are trying to force Canada to sign up to their extreme Internet censorship scheme. Join over 100,000 people to tell Stephen Harper to protect Canadians from U.S. lobbyists.
We knew the Trans-Pacific Partnership (TPP) was a serious threat to Canada's digital future. It turns out it's worse - much worse - than we thought. In a bombshell development, the full text of the TPP's Internet censorship plan has been made public by Wikileaks for all to see.2
The leaked documents show that the TPP will:
Replace carefully crafted Canadian laws with extreme Internet censorship rules drafted in secret by U.S. lobbyists

Give giant U.S. conglomerates the power to kick entire families off the Internet if their kids are accused of downloading the wrong content online.3
Force your ISP to act as the "Internet Police", monitoring your Internet use and even shutting down entire websites. This will certainly make your Internet bill more expensive.4
In short, this plan has no place in the 21st century. It will have wide-ranging implications for our economy, free expression online and your monthly bills.
Stephen Harper promised to stand up for Canada. Now it's time to remind him of that promise -- tell him not to let giant U.S. interests wreck Canada's digital economy.
They're trying to wrap this up in the next few weeks5. The time to act is now.
Every voice counts. Please - speak up today.
For an open and affordable future,
Steve, Reilly, and Jason, and your OpenMedia.ca team
P.S. This plan is worse than our worst fears. Your small team here at OpenMedia.ca are working hard to make sure Canadians know the truth about what's going on. Can you play your part by chipping in what you can today towards our campaign?
Footnotes
[1] Trans-Pacific Partnership: Canadian MPs Have No Access To Drafts U.S. Pols Can See, NDP says. Source: Huffington Post
[2] Secret Trans-Pacific Partnership Agreement (TPP). Source: Wikileaks
[3] What's actually in the TPP? Source: Public Knowledge
[4] "TPP Creates Legal Incentives for ISPs to Police the Internet. What is at risk? Your rights." Source: Electronic Frontier Foundation
[5] U.S. Still Aiming For Completed TPP Talks By Year's End. Source: Law360
Comments