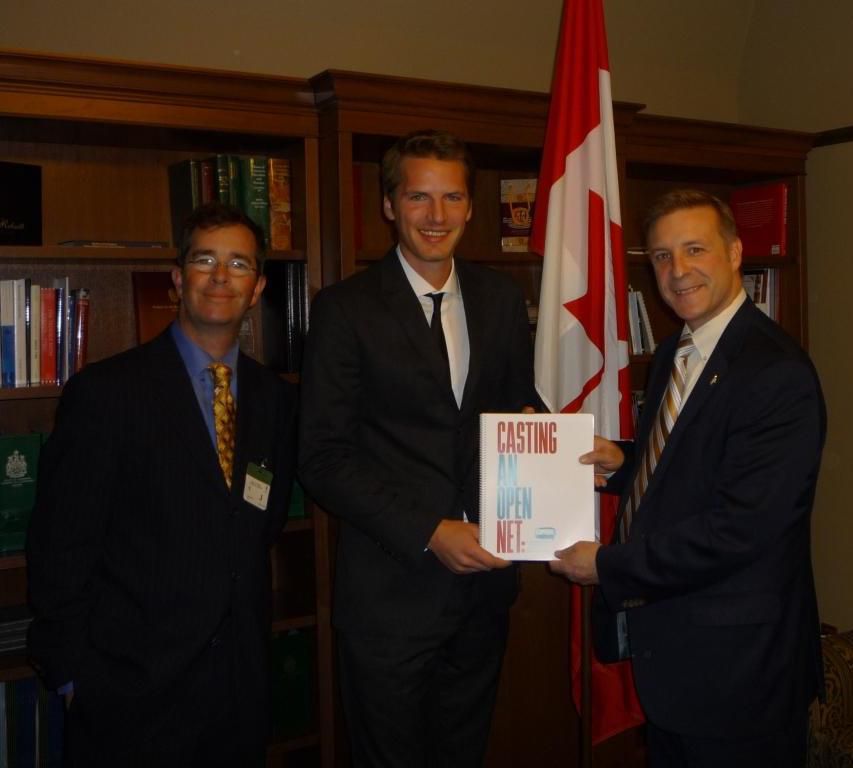 Reporting Back From Parliament Hill
Late last week, OpenMedia.ca met with eight Members of Parliament in Ottawa to discuss legislative strategies that would make the Internet in Canada more open and affordable. This is part of our ongoing effort to help shape the federal government's soon-to-be released Digital Economy Strategy. Our goal was to present a positive digital plan that decision makers can focus on right now.
OpenMedia.ca met with the following MPs from the Conservative party:
More meetings are lined up for late November.
You can back up our call for an open Internet by sending your MP a copy of our report and an invitation for them to meet with an OpenMedia.ca representative.
For the most part the MPs were receptive to our recommendations. They seemed open to helping increase choice and lower costs, to ensuring Internet openness rules are enforced, and to investing in high-speed affordable Internet access for all Canadians.
We know from recent reports that Big Telecom lobbyists have unprecedented access to key decision makers in Ottawa. They work the halls of power and lobby for laws that pad their company's profits. This has ensured Canadians pay some of the highest Internet fees for some of the slowest speeds.
But the tides are slowly turning. Because of the half-a-million strong pro-Internet community, decision makers in Ottawa are now being forced to pay attention and consider OpenMedia.ca's citizen-crafted plan for an open, affordable Internet.
The more people email their MP, the more MPs we'll get to meet. The more MPs we meet with to present our report recommendations, the more we build consensus for greater Internet competition, choice, affordability, and openness.
Thank you for being an important part of this pro-Internet movement.
--
Join us for an online strategy chat this Friday, October 28th at 3:00pm PT, 6:00pm ET, to discuss the meetings with the MPs in detail and discuss ideas for upcoming MP outreach and engagement.
Comments