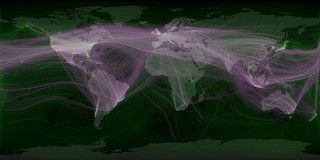 OpenMedia original article
Ars Technica: Censorship has no borders
Researchers at the Citizen Lab at the Munk School of Global Affairs at the University of Toronto, revealed that some Oman Internet users using the Omantel ISP are also being subjected to Indian content restrictions because of traffic flowing through India.
"It goes to show what you can find when you begin to probe beneath the surface of the Internet, and what you see when you have governments start to mess with the openness of the Internet," Ron Deibert, Citizen Lab's director, told Ars on Thursday. "In this case you have a perverse situation where citizens in one country are subject to filtering in another country."
While there have been numerous examples of specific countries blocking foreign or domestic content that they find objectionable, as it runs afoul of their own laws or regulations, it's rare for one country to accidentally block sites due to peering agreements and traffic flows.
In this case, Indian ISP Bharti Airtel and Omantel have peering agreements, and partnered with other companies to build the Europe India Gateway, a 15,000-kilometer fibre optic cable that connects 13 countries via the Suez Canal in Egypt. Read more »
--
Read more at arstechnica.com
Comments